I stood at the kitchen counter making my children Ramen Noodles for lunch. Normally I make the ones that come in the packages, but I accidentally picked up the cups when shopping. As I was waiting for the cup in the microwave to finish, I picked up another container and started reading the outside. I was completely taken aback when I read the label, "Do not microwave."
What!?! Isn't that the point of these cups? If I'm not supposed to microwave the cup, how am I supposed to make this "easy" meal?
So, I had to pull that cardboard label out of the trashcan and read it. To my surprise, you are supposed to add hot water to the container and wait 3 minutes. Then I read the rest of the warning label:
Huh! Isn't this one a no-brainer… of course kids should be sitting down at a table when eating hot soup!
It made me wonder- has this always been the case? Were these Ramen cups designed to consumed in this manner, or is this the result of a legal battle? Either way, one thing is for sure: There is a warning label on something, and I completely disregarded it because I thought I knew better.
I'm not sure if I ever read the directions on Ramen… both in the cup and package… I watched someone make it, mimicked him, and had my cheap meal.
It makes me wonder if I should be paying closer attention to everyday packages. I'll be honest, this is not something I really want to do, but there is a reason that the label is there.
Warning labels… they are there for a reason. But how often do I overlook them?… especially when it comes to sin…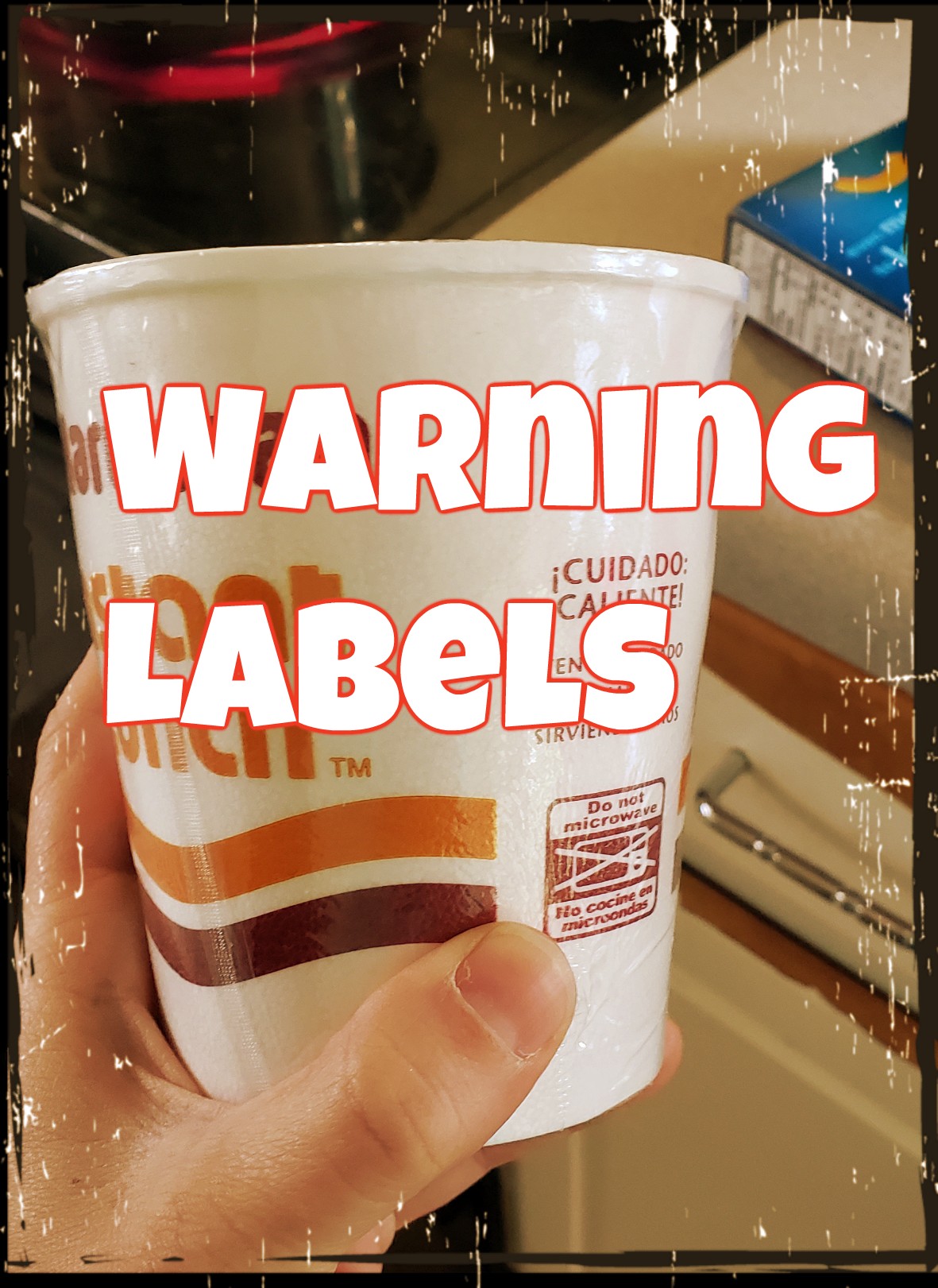 The Bible is filled with warning labels:
Romans 6:23 "For the wages of sin is death, but the gift of God is eternal life in Christ Jesus our Lord."
Colossians 3: 5-6 "Put to death, therefore, whatever belongs to your earthly nature: sexual immorality, impurity, lust, evil desires and greed, which is idolatry. Because of these, the wrath of God is coming."
Oh and it gets specific too.
Proverbs 6:16-19 "There are six things the LORD hates, seven that are detestable to him: haughty eyes, a lying tongue, hands that shed innocent blood, haughty eyes, a lying tongue, hands that shed innocent blood, haughty eyes, a lying tongue, hands that shed innocent blood,"
1 Corinthians 5:33 "Bad company corrupts good character…"
The warnings are there. The truth is- I know that. I could probably even quote those to you in the moment. But that doesn't mean that I always apply them.
Maybe, the problem is that I just overlook those warning labels. Maybe… maybe, because I don't want to see them…Or I've always done things a certain way and now its habit. Thus, I don't really realize it's wrong.
Confession, I've had someone point it out to me and only responded in defensive of my sins, "You don't know what I've been through…" Maybe that's right, they do not know, but God knows.
For me, though… I grew up knowing what the Bible says, but also watching as the people around me did not actually do what the Bible says… it was like their "church front." Go to church, pretend to be a good person, then do whatever you want for the rest of the week. So that's what I thought faith was… This was a really hard habit to break as I began to truly walk with Christ.
This is not how God has called us to live! Yes, you are forgiven, but that's not a free pass to go on sinning. If you know what you are doing is separating you from God, you have an obligation to change your ways.
We have to live a life worthy of the Gospel. We have to be changed by that good news. The way of the world leads to death. The way of God leads to everlasting life.
If we just accept Jesus and then carry on with our own lives as we wish, we are missing out! Once we have begun to walk with Christ, we have the Holy Spirit indwelt with us. He is convicting us, leading us, and changing us into the image of God. He will show you those warning labels.
Suddenly things that always seemed ok, now don't feel right.
That movie you are watching, doesn't align with your faith. The language bugs you. Their actions bother you. You really don't want to keep watching it.
That holiday you are celebrating or that tradition you are taking part in, suddenly seems meaningless and maybe even a little bit wrong.
That joke you just heard actually offended you as you realized that joke was made at the expense of a child of God.
Suddenly a conversation speaking negatively of someone has you inspired to call out the gossip or change the conversation completely.
It may not be a literal warning label, but it is a real, honest prompting from the Holy Spirit who is helping you love people the way Jesus did. Once you give your life to Christ, you cannot be the same. You will begin to become a new person and your desires will change to allign with His.
This is the process of sanctification. Embrace it. Live it. Be obedient. When you feel that prompting, listen, evaluate, pray.
"No one who abides in him keeps on sinning; no one who keeps on sinning has either seen him or known him." 1 John 3:16